American type gondola <-
Retail shelving system
<-
Store fixtures
<- Your position
main features: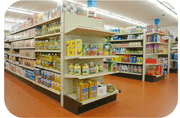 The sizes are compatible with USA standard gondola shelving system.

Rectangular tube uprights punched with 1" pitch holes.

Steel pegboard panel, plain panel, slatwall panel, MDF hole panel are available.

Standard shelving width 3' and 4', 14" to 24" depth, Height from 48" to 96".

Lockable brackets welded with shelves provide strong stability.

New europe type EPOS shelf front for ticket strips and acrylic riser and dividers.

Please contact us to get more information and the lastest price list about the gondola shelving, For more info about
gondola shelving from china supplier
, please visit the new special website:
www.shelving.com.cn
. Email us at

Width(mm)
Depth (mm)
Height(mm)
36"
14"
48"
48"
16"
54"
 
18"
60"
 
20"
72"
 
22"
84"
 
24"
96"
Assembly instruction,(right click to download file)
More about quality tips & FAQ,see left navigation