Slotted angle shelvings <-
Retail shelving system
<-
Shop fittings
<- Your position
Slotted angle shelving system combined with steel shelves and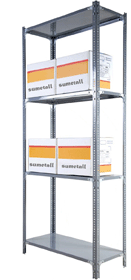 slotted angle uprights, provideing one of the most versatile and economical storage shelving systems. The shelving allows you DIY assembly, provides simple and cost-efficient solutions, widely used in offices, garages, schools, hospitals, museums, libraries etc. For more info about
Slotted angle shelving supplier in China
, please visit the new special website:
www.shelving.com.cn
.
Features:

DIY easy assembly: the simple structure, (Upright, Steel shelf, Gusset, bolt) can build a compelete unit.

Height adjustable: the unique pre-punched hole on upright allows you adjust shelf height level easily.

Capacity: Light duty shelving, 100kg to 250kg loading capacity per level.

Structure: Sturdy, tough, adaptable, rigid when assembled.

Versatile design: Easy to relocate and ideal for special purpose designs.

Economical, Cheapper cost.

Please contact us to get more information and the lastest price list for slotted angle shelving, Email us at

Standard sizes
Width
30"
36"
42"
48"
Depth
12"
15"
18"
24"
Height
60"
72"
84"
96"
Other cusomized size
| | | | |
| --- | --- | --- | --- |
| | | | |
| Angle post | Gusset | Bolt & Nut | Steel Shelf |